tegomasu 2nd live:
tegomasu no ai


download links for the full concert, encore + documentary.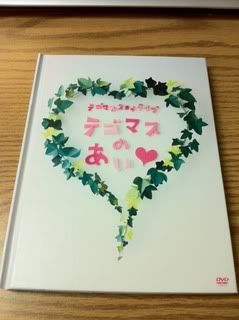 Just a note: I won't be scanning the booklet at all, because the DVD is actually in the form of a book, so to scan it I'd have to xacto the entire thing apart, and there's no way that I'm doing that. :3 Hopefully, someone will have the guts to, because the images inside are just...so stunning and so beautiful. ♥
Disc 1 is roughly 2GB, while the documentary and the encore + special footage is about 1.5 GB, so you're looking at around 3.5 GB of video. Resolution is 720 x 416 I think? Screencaps and whatnot are under the cut.
Same rules as always: comments aren't necessary but appreciated, kindly let me know if you're going to be subbing it, etc, etc. All I ask is you do
not
put it up on jpopsuki or claim that this is your handiwork.
NOTE:
All MU and MF links are now up! If there's any issues or problems, please let me know! :D
( screencaps for quality, download links! )